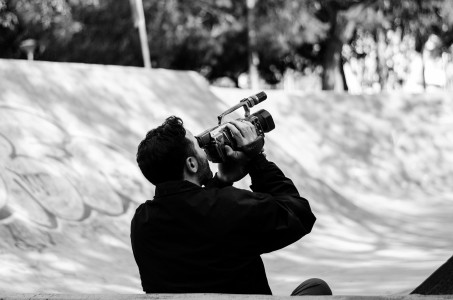 Chef: Hi Alex. What are you doing right now?
Alex: I'm on my way to the studio to do some painting.
Chef: What exactly is ***SPECTRUM EDITION?
Alex: For quite a while my main priority has been to work as an artist and it doesn't leave me much time to film and skate in the streets. For many months (almost a year) I hadn't put anything out and I had difficulty in getting together enough footage that I liked to make a new video. It's been a long and slow process and a lot of people were convinced that I wouldn't have done anything. But I was editing in the shadows without anyone knowing what I was up to until a couple of days before I shed some light on the project and put it out.
Chef: You put it online without a teaser or trailer. Why is that?
Alex: After 5 full length's I wanted to put the that whole method behind me. Travelling, spending money, propaganda, premieres etc. I thought it would be best to document the sessions in a "biographical" way. I find it more logical to show footage in a direct way without warning. Also because I never know when the next actual video will drop.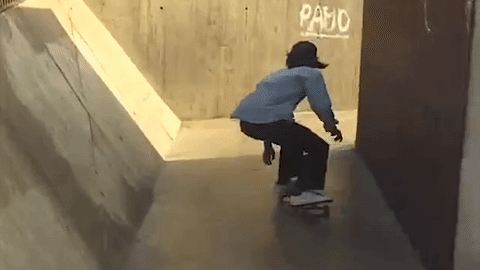 Chef: A video without names but full of people that skate very well! Why no names?
Alex: Personally I don't like seeing a trick while I'm reading the name of who's doing it. I like seeing the names done in a certain way like you guys did with "Milano Rages". I think that's done in a well thought out way, but I enjoy seeing some good skating and not knowing who the person is! I like that a lot.
Chef: We didn't notice any of your tricks in the video. Why aren't you in there?
Alex: I didn't have any clips! (laughs). I've had some tricks in other videos (VIM athletics and other independent videos) but like I said before, this video was a long process and the little free time I had was spent of filming instead of being filmed.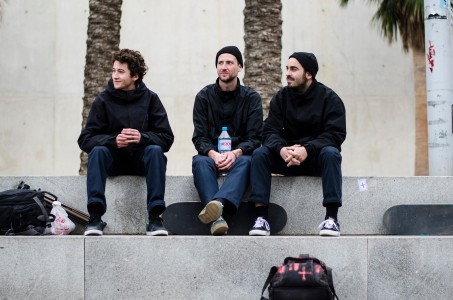 PH: RUBEN JUAN – GERARDO ANAYA, SCOTT ZELLNER & ALEX MARCO
Chef: What is your editing method like? Do you already have the idea in your mind or do you work it out during the editing session?
Alex: I decide everything while I'm editing. I do the same thing when I paint. It's my way of "being",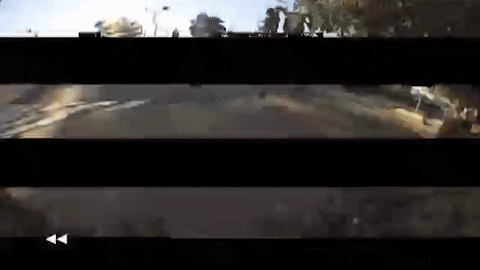 Chef: We personally know that a lot of the spots in the video are totals "busts" where you can skate only for a few minutes. How is the Valencia scene right now? The police? The people?
Alex: The centre is impossible to skate without the police catching you but it all depends on how lucky you get. The people are always more sensitive to the noise so a lot of skaters stay away from the centre or outside the city. The Valencia scene is actually very active and a lot of people are doing their own thing but it's not like it was before…I personally like skating the centre. There are new spots around but I like the idea of continuing to skate the "antique spots I've always skated.
Chef: What happened at 2:46?
Alex: That happened so suddenly. We were skating a basketball court ledge spot called "las canchas" and in the same park we saw smoke coming from under a car. It seems that someone threw a it cigarette and the dry grass under the car caught fire and the car itself as well! The police made us leave because it was about to explode!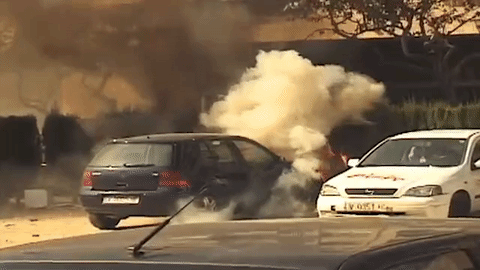 Chef: There's some Taylor footage in there that we're guessing was "throwaway" from his "El Sol" part. They don't seem like bad clips at all though. Who decided on which clips to use and why?
Alex: Taylor and I filmed around 6-7 minutes in two months which is a lot of footage and and it was a lot work! Obviously we couldn't  use everything so we sat down together and selected the best footage that we both agreed upon for the official part. We left the rest for teasers o some other edits. The tricks in Spectrum Edition were actually supposed to go in another project. I have more Taylor footage that's never come out!
Chef: Is the some project you're currently working on that you'd like to tell us about?
Alex: There's always something to do! Right now I'm working on an independent full part of Günes Özdogan which is going to be the bomb! We've already done the first filming sessions in these passed months but we need a second round so we can put it out this year. As for my artistic works I'm always trying to progress. I've got a lot of new ideas and prepare exhibitions .With the rhythm it's going  it has now become my living. You can find updates here: