Connections. Is what skateboarding is all about. Travel with your board, gives you the magical chance to meet awesome people that share your same passions.
They can show you the coolest place in the city, share their experience and projects or create amazing connections.
This is exactly what happened when, during a traveling experience in the baltics nations, I droped some lines at RajonTv instagram to do a session together and a young man, with a skateboard in the stroller, shows up.
And this is how the connection and friendship with Edvard began.
Hi Edvard, please introduce yourself.
Hello everyone, my name is Edvard. I am from Riga, Latvia. I have been skateboarding for roughly 17 years and filming for about 8 – 9 or something. I started skating because of THPS2, and filming came later naturally. I was always into skate videos and it just made sense to try and make my own vids.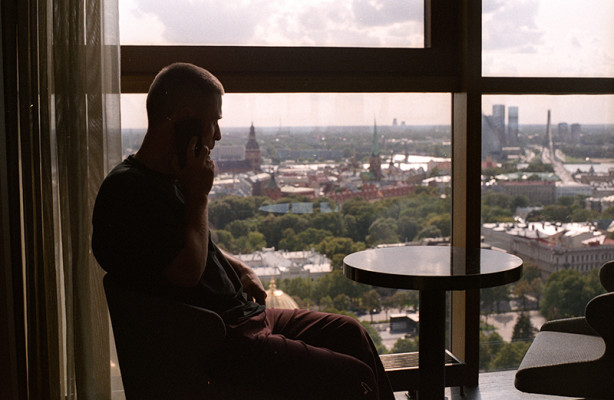 What is RajonTv, when it started and who is behind this network.
RAJONTV (pronounced RaYon) is basically a skate media blog. Primarily RAJONTV focuses on producing skate videos, but with time it developed into something more. We run a blog where we post news related to the Baltic skate scene. We also host events – contests etc "You can check here". Make shirts a bit and support the scene growth in general. RAJONTV started as a blog in 2010 because I though that there could be more local videos from Riga.  My homie registered a blogspot and I started posting some stuff. At that time, I knew nothing about video making. In the blog I would write about some things me and my friends were doing, but it was heavily focused on vids from the start. Later I quit the blog and just focused on making videos. However, in 2017 I felt that I need to start it again and make it bigger. Now it has been 3 years and we have done a bunch of stuff and more people are stocked on RAJONTV. Occasionally some friends write for the blog or help organize events. My wife makes shirt designs. It slowly becomes a community. I think it is important to have some sort of a voice in a scene that talks about things others are doing. I feel like when someone notices your work you want to make more, and this what RAJONTV aims to do.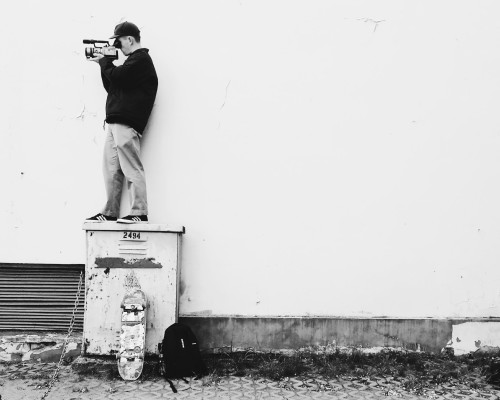 Baltics nations are shining right now, what about skate scene?
Baltic states are slowly building their own identity right now. It was not so long ago when all three Baltic countries gained independence and people of my generation are now in the most productive age in these new independent countries. By making RAJONTV I got a chance to meet a lot of skateboarders in the Baltic region. There are passionate skateboarders in Lithuania, Latvia and Estonia and we try to collaborate, skate together, and push skateboarding. Our scenes are really cool but small at the same time, so it is only smart to stick together whenever possible. Of course the community is still growing and a lot of people leave the Baltics looking for possibilities elsewhere. Hopefully, in the future we will create a cool environment here and people will want to come back and be a part of a dope scene.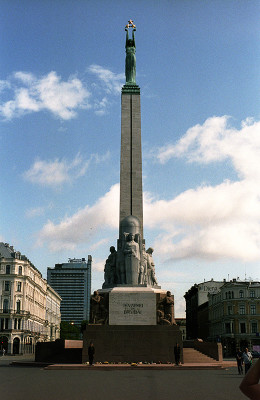 You are promoting many contents related to skateboarding and culture. What keeps you creative and motivated?
I can't think of a single source of motivation. It seems like anything can inspire and motivate. I like the idea that anything that gets you stocked in skateboarding, you can try to do it yourself. When I was a kid I saw videos, so I tried to make my own. Skateboarding allows you to experiment with these different outlets. You like magazines? Well, you can start your own. You like brands? Well, why not give a shot at making one. This can go on and on and that is the coolest part of skateboarding it has so many things for you try and learn.How many skaters have tried building miniramps in their parents garages.
Tell us about Viss Safe project.
I can't say there was a big plan or anything I was just filming here and there. When I got something I liked, I would save it. Eventually I got enough material to make a video and I was also about to turn 30. I though that it was a good time to release a video and celebrate my birthday. I filmed it myself during a course of three years.
We saw Madars Apse in Viss Safe, could you tell us more about him and the role he got in the city of Riga?

Madars is a true hero of the scene. Some years back he got money from his sponsors to build a DIY spot in Riga. Which is one of the best DIY we have.
(Check also the
LIVE SKATEBOARD MEDIA ARTICLE here
)
Later Madars initiated renovation of Latvian National Library (LNB). LNB was not meant for skating – legdes got destroyed quickly and the administration was not happy. Madars' project was aimed at renovating the Library adding new marble pieces which were good for skating. Eventually the spot was proclaimed legal for skateboarding becoming the first legal spot in the Baltics, as far as I know. For some reason cops still show up there and try to kick us out (happened to me twice), but it feels so good to point at the sign that says "Allowed to Skate " and they shove off. So yeah, Madars is G!
We want to know more about the spots of Riga and the DIY park there.
We have a bunch of other spots, but not so many. We have one notorious DIY spot called the Barix – a more raw version of Berrics haha
Well, it is the best spot ever created on this planet. If you had a chance to experience the Barix you can die happy. Unfortunately, they are planning to built some lame office building there and it seems like we won't have Barix next year. It will be a huge loss for many Riga skaters. Potentially some peeps might even quit skating at all.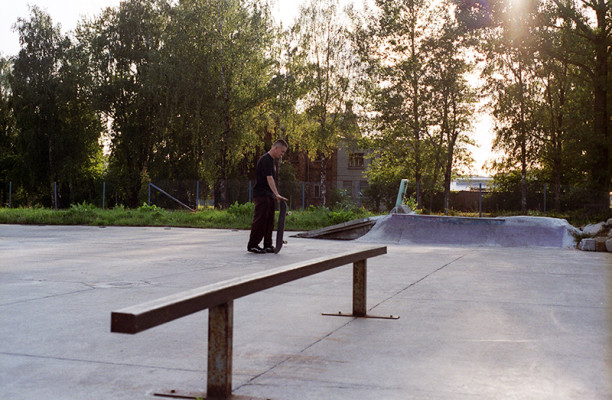 Most of other street spots are pretty rugged around here. We don't have a lot of places where you could chill all day. New hot spot for younger skaters is the National Museum. It is a cool spot, but there is only flat.
Do you have any project ongoing or any ideas for some project in the next future?
We have our annual game of skate championship at the moment. For which
Andrea ("Bakish")
made an awesome intro! Forever grateful for that.
And when the summer is back, we will start working on a new videos. Thank a lot for support my dear Chef Friends! Can't wait to come over to Milano!!!