Words by Andrea Colzani
Last year around the end of Janury 2015 I landed in Shanghai and I managed to live there for 7 months. I have already been in Shanghai in Agoust 2013 for the Chef China Tour so i was aware that  Shanghai is one of the biggest city in the wolrd and probably the one with more skatespots. Despite the huge city the skate scene is still not too big so you can easily know everyone who skates and have a lot of sessions with them. For this reason since the first day i was skating around the city with a lot of homies and i had the chance to film this videopart with Jay Meador, an american guy who live in Shanghai since 2007 and who has discovered most of its spots. I would like to thanks Jay and all the homies for the great times i spent there. See you soon!
Guest Skaters: Asian Dave, Stephen Khou, Elliott Zelinskas, David Chu, Dan Leung, Justen Snyder, Chris Bradley, Johnny Tang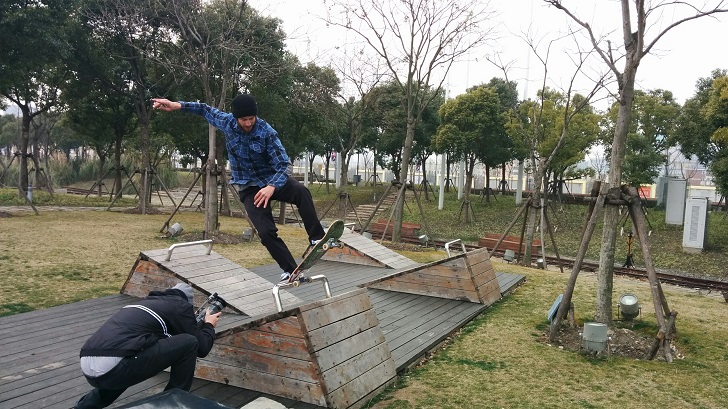 Hi Jay, how are you, how's going in Shanghai?
It's all good here in Shanghai. It's winter here, so I usually skate less because it's so cold. Last month was Chinese New Year and the weather was banging. Everyone came out and skated together for a couple of days. Perfect.
Tell us where do you come from, why you first moved to Shanghai and what are you doing now.
I'm from the USA… a town in Michigan called Spring Arbor. I live in Shanghai now and work as a cameraman for a skater-owned media company called Push Media.  I first came to Shanghai in 2005 to do an internship for my college degree.  I came back to study Chinese in 2007 and just knew that it was going to be good for skating.  I lived up north in Shanghai close to SMP for a year and a half while I was doing school just so I could learn to skate that huge bowl, and the full pipe. After that, I moved downtown and it became rare to skate tranny.
Best thing and worst thing about Shanghai?
There are a lot of things to like about Shanghai. Transportation is tight. It's bike friendly. It's expanding and building shit at a ridiculous pace. Shanghai is home to a lot of skate companies as well, Avenue & Son, Helas, Fly, The Place, Vans, etc.… so there are a lot of events during the year.  There's food from a bunch of different places in the world…. and there's a good mix of local Shanghainese, foreigners and people from other regions of China.
The worst thing is the pollution and the attitude of some of the people around you.  People push and shove and get bummed on each other for no reason. There is a vibe of "dog eat dog" or "everyman for himself". It's like no one trusts each other enough to wait for things… everyone just rushes in at the same time for something because they're afraid someone else will rush in first if they don't.  (Check out the piece I did called "The Tesco Run" by me and Jonathon Lim). The subway is another classic example. Most of the time you don't mind, but some days it wears you down and eventually you just start complaining like everyone else around you.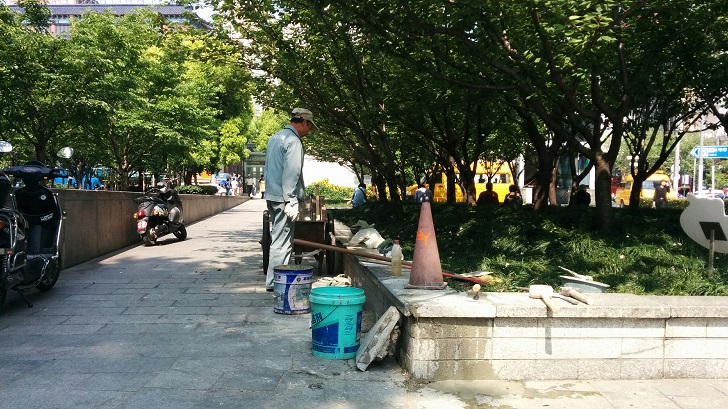 Talking about good things, skatespots in Shanghai are awesome and you are the person you find most of them; tell us how did the spothunting start and the best spot you discovered
I love finding new skatespots. It's about keeping things fresh…  even just a 50-50 on a ledge you've never skated before feels like such an accomplishment.
The best spot I ever found is "The Dust Bowl"… I found it within a month of moving to Shanghai in 2007. It's this empty cement pond that has a meter high bank going around some of it. Theres a little corner you can pump perfectly and hit a long banked wall that you can slide and grind. My homie Nate ended up moving into that apartment complex for a while and I lived with him for a month. We had so many sessions at that spot. It's super dusty though, and when it rains you have to wait at least a couple of days for it to dry out.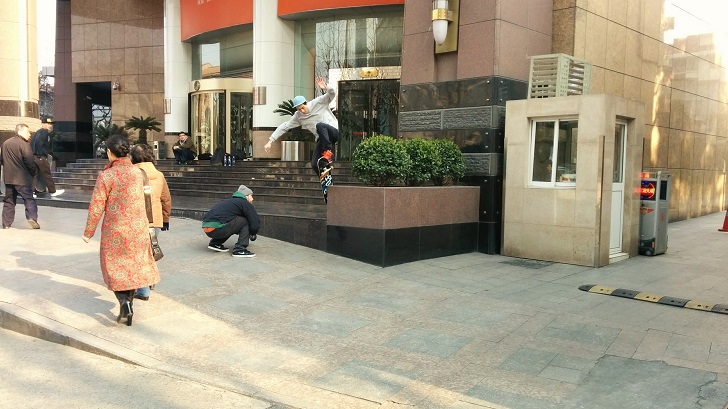 How did all the process to film a videopart start and there was any problem in the making?
Me and Andrea started filming the part together…. sometime last year, hahaha.  Andrea is a spothunter too… he has the thirst to find and shred new spots.  He was part of a crew that formed and we'd go out and hunt together.  I filmed whoever I was with that day. I don't really think we were thinking about a full part or anything in the beginning. Or maybe we did? Anyways, we have a full part now.
There weren't any problems with the project… no footage was permanently deleted. Glad that Andrea let me experiment with different things though. I guess at the time I was really feeling the rolling shots and fucked up quite a bit. hahaha. Sorry about the shaking cam bro!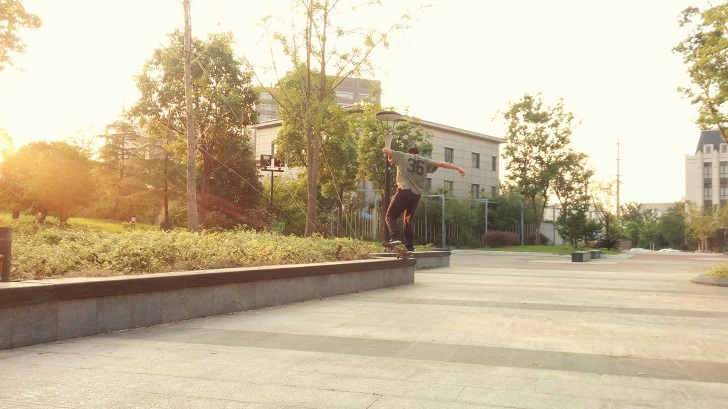 People you would like to thanks?
I want to thank Andrea and The Chef Family in Milano for the love. The guest skaters in the part. The skate companies I mentioned before. Charlie Lanceplaine, Tommy Zhao for their advice.